Music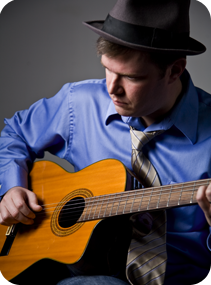 Music has been called 'The Universal Language' – it's a very simple thought but one with a lovely meaning. We may not always understand the words of a song, but we can understand the beauty of music.
Music creates memories, has the power to evoke a wide range of emotions, and can even enhance romance. When you think that almost every couple has a special song, you can truly appreciate the significance it can have on our lives.
While creating my debut album, I've tried to keep these thoughts in the back of my mind, to help create an album that was both personal for me, but also one that could be intimate for the listener as well.
From 'Romanza', which was the first song I ever played for my wife, to the 'John Denver Medley', that was inspired by the memory I have of driving through the Nova Scotia countryside in 1997, and hearing on the radio that John was killed in a plane crash, this body of work is one that has a special meaning for me.
The initial track selection, through to the arrangement, and finally recording of the music itself, has been carefully thought out. The intent was to try to create something elegant, relaxing, and beautiful. I truly believe I've accomplished that, and sincerely hope you enjoy the music.
Kindest Regards,
Scott Pettipas