About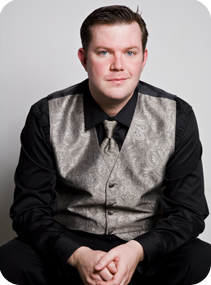 Award winning guitarist Scott Pettipas' unique and refreshing blend of musical styles is best showcased on his self titled debut album, and also on his second album Melodic Twilight – 'Instrumental Album of the Year' 2013 GMA Canada. His notable ability in arranging contemporary pop music for the classical guitar, composing elegant solo pieces in unconventional tuning, and performing traditional favorites makes his music a truly relaxing and joyful experience.
Scott Pettipas (Pet-a-paw) was born in New Glasgow, Nova Scotia, Canada. Although from a musical family, he did not begin playing the guitar until after he graduated from high school. As a self taught guitarist who learned by ear on a twelve string, his initial purpose was only to strum along around the campfire.  However, the guitar opened a new world of creativity to the artistic teenager, and Scott quickly developed a desire to study guitar theory, many times practicing up to 14 hours a day. This resulted in his ability to perform fairly advanced pieces, after only 6 months.
Growing up in his childhood home, there was always an 'Oldies' radio station playing early Rock & Roll music. Over the next few years Scott began incorporating the sounds he had always heard in his adolescence into his own guitar playing. The influences of guitarists such as Chuck Berry, Scotty Moore, Carl Wilson, and John Fogerty began to emerge as Scott spent more time playing an electric guitar in the late 1990's. Like most music lovers, his initial influences were not just limited to early Rock & Roll. Ranging from John Denver and James Taylor in the acoustic songwriter genre, to the electric blues of Stevie Ray Vaughn, and then to Stan Rogers and other more traditional acts in local East Coast music, to name a few.
After honing his skills, predominantly as a lead guitarist accompanying other musicians, Scott began feeling limited in playing just lead lines and thus, he began exploring the prospects of opening / alternate tuning. It was in these new tunings, that the guitar began opening up new sounds and techniques. Also, by revising the instruments potential in this way, it enabled Scott to learn how to arrange and play both rhythm and melody on a single guitar.
Scott's musical journey took another unexpected turn in 2002 while stationed at the Canadian Forces Base in Kingston, Ontario. He bought his first classical guitar. Scott thought the nylon strings would be quieter, and the classical guitar more mobile, and easier to store while living on base. Needless to say, it didn't take long for the classical guitar, and Scott's ability to arrange complex pieces, to naturally lead him to the playing of Chet Atkins.  During his spare time in the Canadian Armed Forces, Scott not only grew his skills as a songwriter but also continued to develop an interest for more sophisticated techniques traditionally reserved for Classical, Flamenco, and Jazz guitar.
After more than 20 years of learning independently Scott has started taking his first lessons; and is currently studying jazz guitar under the legendary Carol Kaye. He is a member of (CARAS) The Canadian Academy of Recording Arts and Sciences, (SOCAN) The Society of Composers, Authors and Music Publishers of Canada, (SAC) The Songwriters Association of Canada, (AMIA) The Alberta Music Industry Association, (GMA Canada) The Gospel Music Association of Canada and (ECMA) The East Coast Music Association.
He currently resides in Calgary, Alberta, Canada with his wife and young daughter.